High Construction Company Appoints President
August 29—High Construction Company has named Richard L. "Rick" Stoudt to serve as president.
Most recently, Stoudt served as Senior Operations Executive with LF Driscoll in Philadelphia, where he was responsible for overseeing regional construction projects and new business generation in the western suburbs of the Philadelphia region. He was employed by Turner Construction Company for over thirty years, working in their southeastern Pennsylvania region in various roles including job site superintendent, project executive, business development, and general manager, and then spent six years developing health care facilities nationally for Hammes Company.
Stoudt is a graduate of Pennsylvania State University with a B.A.E. degree in Architectural Engineering and Construction Management. He has been a member of the Gweynedd Mercy College Board for eleven years, serving as Chair for three years.
"Rick brings to this new role proven leadership and a wide range of construction experience," said Jeffrey L. Sterner, President and Chief Operating Officer of High Industries Inc. "We are very pleased to have him join the High Construction team."
High Construction Company provides design-build, general contracting, and construction management services, as well as facility energy solutions, throughout the mid-Atlantic region of the United States. High Construction specializes in the commercial office, manufacturing, education, hospitality, retail, health care, and multi-family residential markets. The firm was recognized as the Construction Manager of the Year (2011) and General Contractor of the Year for four consecutive years (2007-2010) by the American Subcontractor's Association of Central Pennsylvania. The family-owned business is headquartered in Lancaster, Pennsylvania. High Construction is an affiliate of High Real Estate Group LLC, which also includes Greenfield Architects Ltd., High Associates Ltd., High Investors Ltd., and High Hotels Ltd. For more information about High Construction Company, call (717) 291-2276 or visit
www.HighConstruction.com
.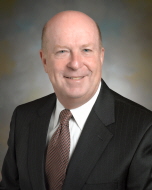 Rick Stoudt, President, High Construction Company.